Webinar: Carbon pricing as a win-win solution for a green recovery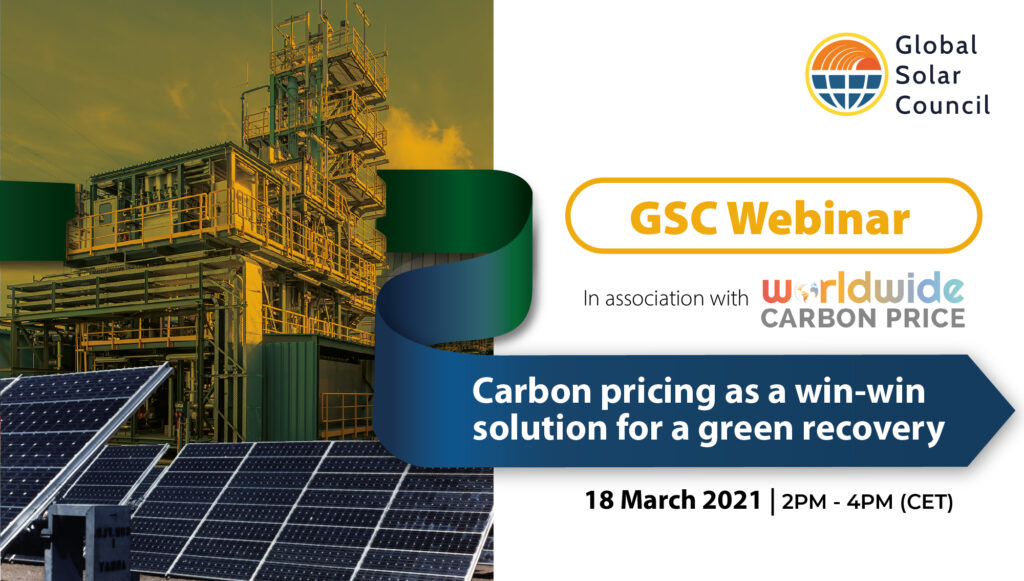 Webinar in association with Global Solar Council.
As the global economy starts to rebound from the trauma of the pandemic, governments are faced with twin challenges:
There is a need to turn promises of a green recovery into an effective set of policy instruments that provide financing and support for an unprecedented wave of clean energy investment;
Public finances have been severely stretched by emergency measures during the pandemic, limiting options to raise new funds.
THE HARD REALITIES:
In most OECD countries tax on incomes cannot be raised further to repay recovery (it should be reduced instead)
General progress in terms of redesigning fiscal systems as instruments for environmental and climate policy objectives is insufficient
Most countries – not only oil exporters – need to move to phase out fossil fuels subsidies that are contributing to significant environmental and climate damage
The cost of green energy sources such as a solar PV have plummeted, but crisis-induced low fossil prices are still damaging their competitiveness
Putting a global price on carbon emissions presents a unique solution for overcoming post-pandemic fiscal stress and boosting the transition to green technologies.
This webinar will:
Explain why this is the perfect time to expand carbon pricing in the world;
Examine how it will work;
Explore the benefits to fiscal regimes, trade, investment and climate policy.
AGENDA
14:00 Introduction and moderation
Gianni Chianetta – CEO of GSC and President of WCP
14:05 Presentation of WCP
Attilio Piattelli – Vice President & Secretary General of WCP
14:15 Carbon pricing for solar revolution
Paul Ekins – Professor of Resources and Environmental Policy and Director, UCL Institute for Sustainable Resources, University College London
14:30 What role for carbon pricing in a green recovery?
Jonas Teusch – Economist, Tax and the Environment Unit, Centre for Tax Policy and Administration, OECD
14:45 Perspectives of ETS, CBAM, energy taxation in the European Union
Hans Bergman – Head of Unit B1 – ETS Policy Development & Auctioning, Directorate-General Climate Action, European Commission
15:00 Perspectives of environmental transition in the US Tax System
Marc Hafstead – Fellow and Director, Carbon Pricing Initiative, Resources for the Future
15:15 Roundtable (moderated by Michele Governatori – Coordinator Scientific Committee of WCP)
All above speakers
Stephan Singer – Senior Climate Science and Global Energy Policy Advisor, Climate Action Network
Min Li – Chief Representative – China, International Emissions Trading Association (IETA)
15:55 Wrap up
16:00 End of Event