The rationale behind carbon pricing is firstly its higher efficiency compared to command and control. Secondly, its higher effectiveness compared to voluntary agreements and information. Although many countries have introduced carbon pricing mechanisms, factoring in current fossil fuel subsidies results in negative net carbon prices globally.
Without significant increases in carbon-based energy prices, energy consumption will go on rising and energy efficiency be disincentivized ultimately leading to a failure to stabilize the climate in a cost-efficient way.
Net carbon prices, net carbon revenues, and net carbon revenue as a share of current national health expenditure across 75 countries in 2016 and 2017.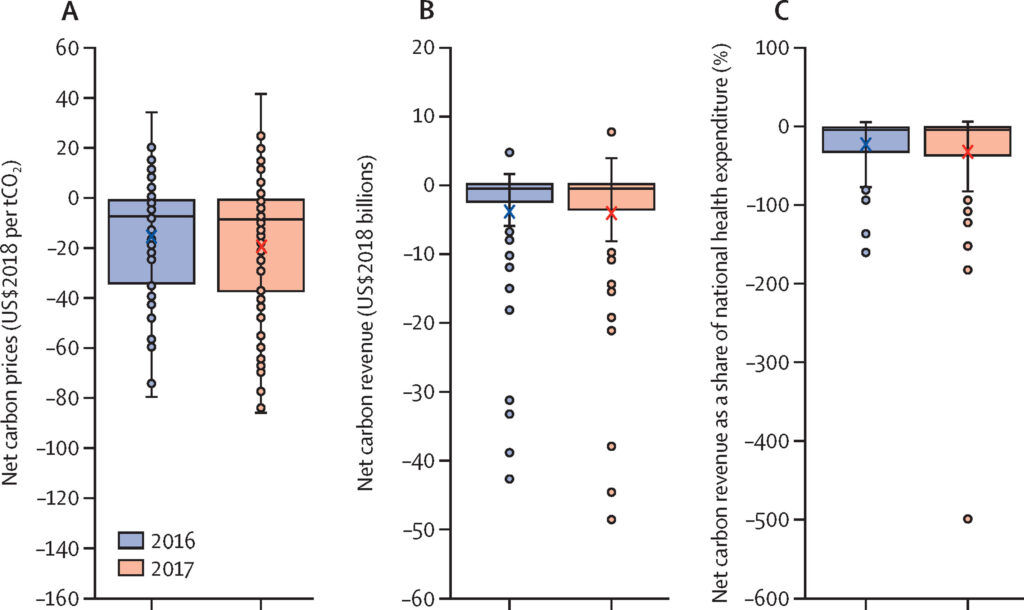 Source: The 2020 report of The Lancet Countdown on health and climate change: responding to converging crises; The Lancet; ©2020 Elsevier Ltd.
(A) Net carbon prices.
(B) Net carbon revenues.
(C) Net carbon revenue as a share of current national health expenditure.
The boxes represent the IQRs, the horizontal lines inside the boxes represent the medians, and the crosses represent the means. The brackets represent the range from minimum to maximum; however, points are represented as outliers beyond this range if their values are 1·5 times the IQR less than the first quartile or more than the third quartile. tC02=tonnes of carbon dioxide.
Member of WCP Scientific Committee Paul Ekins – Professor of Resources and Environmental Policy and Director of the UCL Institute for Sustainable Resources, University College London. From his speech at the launch webinar of WCP "Carbon pricing as a win-win solution for a green recovery" held on 18th March 2021